August 21, 2019 | Volume I, Issue 12
Larner Welcomes Medical Student Class of 2023
On August 12, Dean Richard L. Page, M.D., Interim Senior Associate Dean for Medical Education Christa Zehle, M.D., UVM Health Network Medical Group President Claude Deschamps, M.D., and other leaders welcomed 124 new medical students to the Larner College of Medicine and the start of their journey to becoming physicians. The Class of 2023 is not only the largest in the history of the college, but also the result of a record number of applications, totaling more than 6,700. The students hail from 22 different states and each of them has a unique background and reason for pursuing a career in medicine. More than a quarter of them will spend their third and fourth years at the College's Connecticut branch campus, doing clinical training at Danbury and Norwalk Hospitals. Read more about the Class of 2023.
Link to photo gallery
Pictured above: Dean Page chats with members of the Class of 2023 before the start of the official welcome.

Sigmon Receives $6.7 Million HRSA Grant to Establish UVM Center on Rural Addiction
The University of Vermont will be home to one of three new national Centers of Excellence established as part of the Health Resources and Services Administration's Rural Communities Opioid Response Program, with funding secured by Vermont Senator Patrick Leahy. On August 8, UVM President Suresh Garimella joined Senator Leahy for a press conference announcing the university's receipt of a three-year, $6.7 million grant to establish the University of Vermont Center on Rural Addiction (CRA).
Led by Vermont Center on Behavior and Health researcher and Associate Professor of Psychiatry Stacey Sigmon, Ph.D., the UVM Center on Rural Addiction will serve as a resource for scientific and technical assistance, and will provide information and training to clinicians, programs, and policymakers seeking guidance on how to address substance use disorder challenges in their rural communities. During its initial three years, the Center will focus on disseminating evidence-based practices to rural counties in Vermont, New Hampshire and Maine, relying on partnerships with collaborators throughout New England.
"We will work to identify, translate, disseminate and implement science-based practices to address the rural opioid use disorder epidemic, as well as future substance use disorder epidemics as they emerge in our rural communities," said Sigmon.
Sigmon will serve as the center's director, while Professor of Psychiatry
Sarah Heil, Ph.D.
, will serve as the center's associate director. Vermont Center on Behavior and Health Director and Professor of Psychiatry
Stephen Higgins, M.S., Ph.D.
, Professor
Richard Rawson, Ph.D.
, Associate Professors
Andrea Villanti, Ph.D., M.P.H.
, and
Valerie Harder, Ph.D.
, and Assistant Professors
Diann Gaalema, Ph.D.
,
Allison Kurti, Ph.D., M.S.
, and
Kelly Peck, Ph.D.
, will serve as UVM CRA core directors and faculty. Associate Professor of Obstetrics, Gynecology and Reproductive Sciences
Marjorie Meyer, M.D.
, Assistant Professor of Psychiatry
Sanchit Maruti, M.D.
, and Associate Clinical Professor of Psychiatry
John Brooklyn, M.D.
, will lead the UVM CRA Physician Advisory Group and serve as critical clinical expert liaisons between the Center and community providers.
Noelle Sevoian, M.S.
,
Marissa Palmer, M.P.H.
, and
Susan Enos
will provide fiscal, communications and administrative support.

First Class of Emergency Medicine Residents Begin Training at UVM Medical Center
After years of planning, the UVM Medical Center launched its first-ever emergency medicine (EM) residency, welcoming six new doctors to the three-year program in June. What sets the UVM program apart from many others is its mix of tertiary and rural hospital experiential offerings, and its focus on independent clinical decision-making. "We want to teach our EM residents how to innovate and be leaders in the future," said Associate Professor of Surgery Richard Bounds, M.D., who directs the program.

UVM Medical Center serves as the academic hub for the residents, who also gain experience in rural communities at UVM Health Network-affiliated hospitals. UVM is the first in the U.S. to equip each EM resident with their own hand-held ultrasound technology, which can be used anywhere, and allows for quick decision-making. The ultrasound probe plugs into an iPhone and uploads images to a cloud for image review, teaching, and quality assurance. Read more.
Pictured above, from left to right: EM residents
Madison Daly, M.D.; Michael Carson, M.D.; Noah Rohrer, M.D.; Nick Alsofrom, M.D.; Chance Sullivan, M.D.;
and
Aaron Blau, M.D.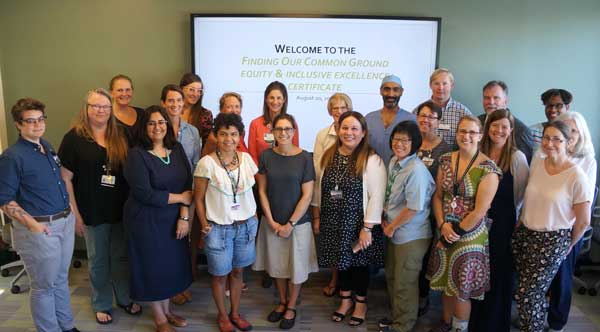 ODI Holds First Class for "Finding Our Common Ground" Certificate Series
The Office of Diversity & Inclusion welcomed the inaugural cohort for its new 10-month "Finding Our Common Ground Equity & Inclusive Excellence" certificate series on August 20. Developed by the Dean's Advisory Committee on Diversity & Inclusion staff subcommittee, the program ties directly to the College's Strategic Diversity Plan recommendations to provide additional opportunities for staff and faculty to engage in educational opportunities and to champion diversity and inclusion initiatives at the college. The program aims to help staff and faculty develop equity and cultural humility skills in an interactive and dynamic setting.
Participants will translate the knowledge they've gained through the courses and elective learning experiences into a Capstone Project that explores a problem or issue of particular professional interest and applies skills and knowledge gained through the program to foster an equitable and inclusive workplace.
Members of the first cohort completed an online 50-question Intercultural Development Inventory (IDI) assessment prior to attending their first session.
Learn more about the certificate series.
Community Medical School Kicks-Off 21st Year
On Tuesday, September 10, the Larner College of Medicine and the UVM Medical Center will kick off the 21st year of Community Medical School with a talk by Assistant Professor of Psychiatry Pamela Swift, Ph.D., titled "Solving the Mystery of Sleep: Patterns, Habits, & Tools." Additional presentations for the semester include "Opioids, Marijuana, and Chronic Pain: What Doctors Do & Don't Know," by James Wolf, M.D., assistant professor of anesthesiology; "How Knowledge, Belief, & Truth Impact Medical Practice," by Eike Blohm, M.D., assistant professor of surgery; and "Stem Cell Therapies: Hype & Hope," by Daniel Weiss, M.D., Ph.D., professor of medicine. Find out more about the fall session and past presentations on the Community Medical School web page.
Kick off the Vision 2025 strategic planning initiative by joining one of the Open Forum sessions for a SWOT (strengths, weaknesses, opportunities, threats) exercise to share your insights and perspectives on the College.
Faculty:
Monday, August 26, 5:30 pm, Larner Classroom, MEC 100
Wednesday, September 4, 9:00 am, HSRF 400
Staff:
Wednesday, August 28, 9:00 am, Larner Classroom, MEC 100
Thursday, September 5, 12:30 pm, Sullivan Classroom, MEC 200
Students (Medical and Graduate):
Wednesday, August 28, 12:00 Noon, HSRF 400
Tuesday, September 3, 5:30 pm, Sullivan Classroom, MEC 200

It was a privilege to host UVM's first-year medical students at two Howard Center sites during their orientation week. They arrived with enthusiasm for their service and successfully accomplished two large projects for us. We expect they will serve our community well during their time at the university and look forward to our continued partnership with the Larner College of Medicine."

- Denise Vignoe, Director of Development and Communications, Howard Center
Surgical residents Allison Brandeis, M.D., and Sarah Kelso, M.D.'17, are joining the Clinical Simulation Laboratory as Surgical Simulation Fellows for the 2019-2020 academic year. Over the course of their fellowships, they will learn about simulation education, research, operations, and leadership.
Tim Lahey, M.D., M.M.Sc., professor of medicine, is the recipient of a 2019 NH-VT Albert Schweitzer Fellowship Leadership Award. The award recognizes individuals "whose life examples have significantly mitigated the social determinants of health in their communities and whose commitments to service have influenced and inspired others.
Director for Facilities Administration and Planning Eric Gagnon joined the Board of Directors of The American Red Cross of New Hampshire & Vermont. He will serve for three years.
The Pulmonary Fibrosis Foundation (PFF) has selected the University of Vermont Medical Center as one of eight new Care Center Network sites nationwide. The UVM Medical Center is the only facility in Northern New England to be part of PFF's Care Center Network, increasing access to high-quality care and services that are critical to the local pulmonary fibrosis community.
CITATION HIGHLIGHTS
Ames SE, Ponce BA, Marsh JL, Hamstra SJ. Orthopaedic Surgery Residency Milestones: Initial Formulation and Future Directions. J Am Acad Orthop Surg. 2019 Aug 14. doi: 10.5435/JAAOS-D-18-00786. [Epub ahead of print] PubMed PMID: 31415296.
Taatjes DJ, Roth J. In focus in HCB. Histochem Cell Biol. 2019 Aug 14. doi: 10.1007/s00418-019-01808-1. [Epub ahead of print] PubMed PMID: 31414229.
Naik AR, Kuhn ER, Lewis KT, Kokotovich KM, Maddipati KR, Chen X, Hörber JHK, Taatjes DJ, Potoff JJ, Jena BP. Self-Assembly and Biogenesis of the Cellular Membrane are Dictated by Membrane Stretch and Composition. J Phys Chem B. 2019 Aug 15;123(32):6997-7005. doi: 10.1021/acs.jpcb.9b04769. Epub 2019 Jul 31. PubMed PMID: 31322890.
Grams ME, Surapaneni A, Ballew SH, Appel LJ, Boerwinkle E, Boulware LE, Chen TK, Coresh J, Cushman M, Divers J, Gutiérrez OM, Irvin MR, Ix JH, Kopp JB, Kuller LH, Langefeld CD, Lipkowitz MS, Mukamal KJ, Musani SK, Naik RP, Pajewski NM, Peralta CA, Tin A, Wassel CL, Wilson JG, Winkler CA, Young BA, Zakai NA, Freedman BI. APOL1 Kidney Risk Variants and Cardiovascular Disease: An Individual Participant Data Meta-Analysis. J Am Soc Nephrol. 2019 Aug 5. pii: ASN.2019030240. doi: 10.1681/ASN.2019030240. [Epub ahead of print] PubMed PMID: 31383730.

Liu YH, Gao X, Mitchell DC, Wood GC, Still CD, Jensen GL. Diet Quality Is Associated With Mortality in Adults Aged 80 Years and Older: A Prospective Study. J Am Geriatr Soc. 2019 Aug 6. doi: 10.1111/jgs.16089. [Epub ahead of print] PubMed PMID: 31386173.
Graziano SC, Page-Ramsey SM, Buery-Joyner SD, Bliss S, Craig LB, Forstein DA, Hampton BS, Hopkins L, McKenzie ML, Morgan H, Pradhan A, Everett EN; Undergraduate Medical Education Committee, Association of Professors of Gynecology and Obstetrics. Developing as an Academic Medical Educator in Obstetrics and Gynecology. Obstet Gynecol. 2019 Aug 7. doi: 10.1097/AOG.0000000000003417. [Epub ahead of print] PubMed PMID: 31403603.
Boghossian NS, Geraci M, Lorch SA, Phibbs CS, Edwards EM, Horbar JD. Racial and Ethnic Differences Over Time in Outcomes of Infants Born Less Than 30 Weeks' Gestation. Pediatrics. 2019 Aug 12. pii: e20191106. doi: 10.1542/peds.2019-1106. [Epub ahead of print] PubMed PMID: 31405887.
Munson PB, Hall EM, Farina NH, Pass HI, Shukla A. Exosomal miR-16-5p as a target for malignant mesothelioma. Sci Rep. 2019 Aug 12;9(1):11688. doi: 10.1038/s41598-019-48133-0. PubMed PMID: 31406207.
Jensen GL, Malone A, Guenter P. The Academy of Nutrition and Dietetics/The American Society for Parenteral and Enteral Nutrition Consensus Malnutrition Characteristics: Usability and Association With Outcomes-A Commentary. Nutr Clin Pract. 2019 Aug 12. doi: 10.1002/ncp.10380. [Epub ahead of print] PubMed PMID: 31407388.
Moore CL, Carpenter CR, Heilbrun ML, Klauer K, Krambeck AC, Moreno C, Remer EM, Scales C, Shaw MM, Sternberg KM. Imaging in Suspected Renal Colic: Systematic Review of the Literature and Multispecialty Consensus. J Urol. 2019 Sep;202(3):475-483. doi: 10.1097/JU.0000000000000342. Epub 2019 Aug 8. PubMed PMID: 31412438.

View Archive | Subscribe

Published by the Office of Medical Communications
The Larner College of Medicine
at The University of Vermont
Copyright 2019